CSU-Global Campus is committed to advancing student success in a global society, investing in human capital, expanding the state economy, and enhancing the quality of life for citizens in the state of Colorado and beyond by providing access to dynamic degree programs characterized by academic excellence, innovative delivery technologies, and strong stakeholder engagement.
CSU-Global's tuition rates are low, and we make sure they stay low. We know that time isn't the only substantial investment when you're thinking about returning to school. There's also the matter of finances and college cost, and the fact that many of our students need to budget for the needs of their families as well. For this reason, we go out of our way to make CSU-Global's tuition affordable, and to help you effectively manage your finances along the way.
Our affordable college tuition rates are already lower than many comparable online degree programs, but in addition we have no out-of-state tuition fees. Our Tuition Guarantee also locks your low rates in place, so that they will never increase as long as you stay enrolled.
As a student at CSU-Global you will also receive up-front, no-cost tuition planning, during which we thoroughly evaluate your options for payment and ensure that you are moving forward in the most financially secure way possible. In addition, financial aid options – including grants, low-interest loans, military benefits, and more – are also available. Our goal is to help you earn your degree in an affordable way, and we will do everything we can to make that happen.
When you earn your degree through CSU-Global Campus, you can choose to customize it with a specialization in a subject that matches your professional goals or personal interests.
Bachelor's Degrees
Master's Degrees
Specializations
Certificates of Completion
CSU-Global offers both flexibility and convenience by design, allowing you to earn your degree at your own pace, on your own terms. We understand that not every student has the luxury of putting their life on hold when they decide to go back to college. That's why at CSU-Global every one of your classes will be 100% online, without any fixed schedules. Our flexible college programs are available to you 24 hours a day, 7 days a week, anywhere that you have internet access.
This asynchronous model of education provides for a student-driven approach to learning, without the constraints of a traditional classroom environment. You do your work when you have the time, at your own pace, without having to worry about a commute or taking time off of work. Working and going to school are not mutually exclusive.
We provide you the support you need at every step of your journey, from our streamlined admissions process to our knowledgeable and qualified Student Advisors, available to answer any question you might have.
Additionally, our classes begin every four weeks, allowing you to start on your path to academic success with minimal delay. Earning a degree should be challenging, but the logistics of attending school should not be. We do our best to be as convenient and flexible as possible, so that you can focus on the important things while going back to school.
CSU-Global is a "Candidate for Accreditation" by the Accreditation Council for Business Schools and Programs (ACBSP). As the process of accreditation is thorough, CSU-Global cannot provide a date as to when accredited status may be granted. Any degree conferred in an approved degree program after that date of accreditation will be considered accredited through ACBSP.
CSU-Global is currently in the process of reaffirming its accreditation status for the next ten years with the Higher Learning Commission. This extensive 18-month self-study and review will be completed within the 2015-2016 academic year.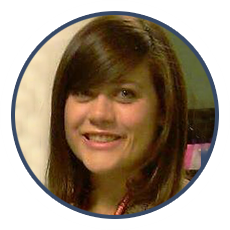 "I wanted to further my education without giving up the two things that I am passionate about, my career and my family…CSU-Global was the perfect choice for me when I was considering schools."
— Nicole Hockert · M.S. in Organizational Leadership